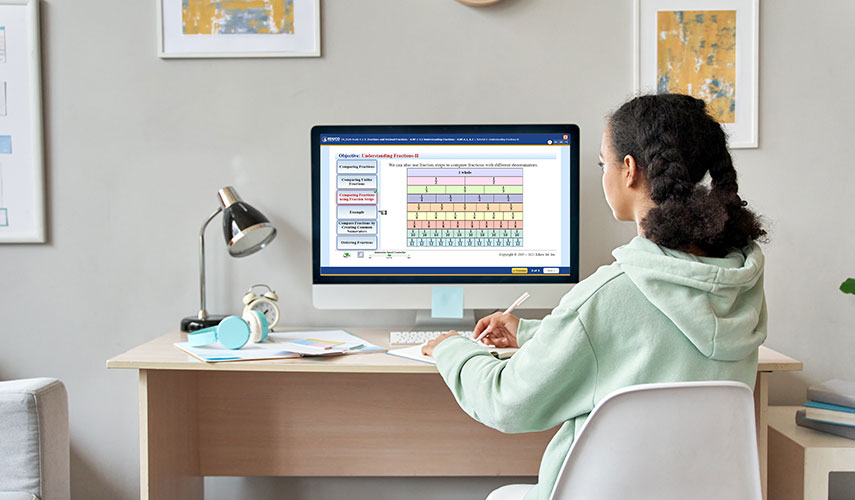 Tutorials, a powerful learning tool for students
03/24/2023
In the past decade, teachers have used their digital notes or PowerPoint presentations to teach in the classroom or virtually. The pace of utilizing digital lecture notes and PowerPoint have increased exponentially in the past few years due to the pandemic. Teacher notes are a useful resource for teaching math as they include information on key concepts, formulas, and problem-solving strategies. PowerPoint presentations are visual aids that can supplement teacher notes or present information in a different format. They can include images, diagrams, and animations that can help to explain complex concepts and make them more engaging and easier to understand.
ELC Tutorials incorporate features of both teacher notes and PowerPoint and interactive features to engage students and make it easier for them to understand. ELC is the only online platform that includes tutorials for all the topics taught in grades one to twelve. The tutorials provide students with a clear and organized summary of the materials related to math topics. This helps the students to better understand and retain the information. They can also be used as a resource for studying and preparing for tests. The tutorials, practice assessments, and graded assessments (quizzes and tests) provide a comprehensive learning experience.
Each tutorial provides a discussion on a math topic, formulas, examples, and step-by-step explanations of how to solve a problem. Tutorials also provide visual aids such as animations, graphs, and diagrams, which help to explain mathematical concepts and make them more understandable. Tutorials with discussion are beneficial in math because they provide a clear and organized summary of the material related to a math topic, which can help students to better understand and retain the information. Additionally, the examples provided can help to illustrate the concepts and make them more concrete and easier to grasp.
Tutorials are a valuable resource for students who are struggling or missed learning a topic because they missed a class. By having access to tutorials, students can catch up on the material they missed and get a better understanding of the concept being taught.
Furthermore, tutorials are a passive form of learning, it allows students to control the pace of learning, and they can go back, pause, read, and re-read as much as they want to understand the concept better. Reviewing tutorials also helps students to actively engage with the material and identify key concepts and relationships.
The tutorials are also used by teachers and tutors as lecture notes in a face-to-face classroom or in an online class. Therefore, tutorials can also be used as a resource for self-study and practice. Students can use the tutorials to review and practice the concepts and examples, which can help to solidify their understanding and build their skills.
Benefits to learning math online with Educo Learning Center (ELC), Including:

04/06/2023

Convenience: ELC math resources can be accessed anytime, from anywhere, with an internet connection, making it easy to fit math learning into a busy... more

Importance of Diagnostic Test

03/27/2023

If you are thinking about how to start helping your child learn Math, a Diagnostic test would be the best place to start. Diagnostic tests are ... more

Practice Makes Perfect

03/15/2023

Ask any teacher or coach, and you are told that becoming an expert requires practice, practice, and more practice. ELC offers rich, varied, and... more