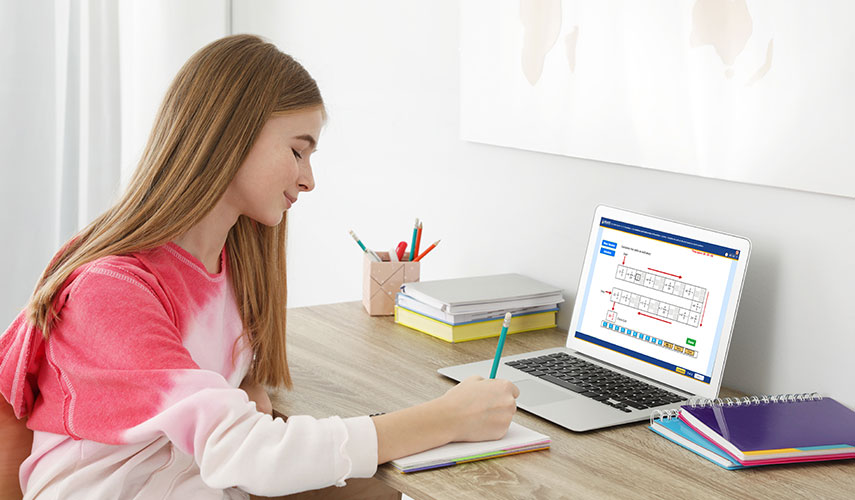 Benefits to learning math online with Educo Learning Center (ELC), Including:
04/06/2023
Convenience: ELC math resources can be accessed anytime, from anywhere, with an internet connection, making it easy to fit math learning into a busy schedule.
Flexibility: ELC resources allow users to set their own pace of learning, so they can move through the material at a speed that's comfortable for them.
Variety of resources: ELC offers a wide range of math resources, from interactive tutorials to unlimited practice problems and assessments at different levels. This variety can make it easier for students to follow a proven learning pedagogy that works for them.
Customization: ELC resources allow students to customize their learning experience by choosing the topics they want to study, the difficulty level, online and offline practice, or the pace of learning.
Immediate feedback: ELC resources give immediate feedback and solutions on practices. In addition, students also get feedback on quizzes and tests after the test is submitted, helping students identify where they need further improvement quickly.
Self-paced learning: ELC resources are great for students who learn at their own pace, as they can review tutorials and practice multiple times until they have mastered the topic.
Aligned to Standards: ELC resources are aligned to common core standards with analytics/reports on students' performance on every standard topic.
Cost-effective: ELC math courses are much cheaper than traditional in-person math tutoring or classroom instruction.
Parent Empowerment: ELC provides valuable support resources for parents to support their student's online learning. "I can do" infographics and checklists, parent dashboards, standards, skills analytical reports, weekly learning updates, and parent view with access to tutorials make it easier for parents to support and monitor their student's progress.
Resource for Teachers and Tutors: ELC resources provide interactive lecture notes and downloadable worksheets to support their teaching. ELC does all the mundane and time-consuming tasks a teacher has to do, allowing them more time to interact with students online or face-to-face. This is helpful for students who may be struggling with specific concepts or need extra help.
Importance of Diagnostic Test

03/27/2023

If you are thinking about how to start helping your child learn Math, a Diagnostic test would be the best place to start. Diagnostic tests are ... more

Tutorials, a powerful learning tool for students

03/24/2023

In the past decade, teachers have used their digital notes or PowerPoint presentations to teach in the classroom or virtually. The pace of util... more

Practice Makes Perfect

03/15/2023

Ask any teacher or coach, and you are told that becoming an expert requires practice, practice, and more practice. ELC offers rich, varied, and... more